Hey Guys,
I'm totally exhausted as I write this because I've been running around Manhattan like a crazy person trying to do and see absolutely everything, but I'll try to give you all the goods! NYC is awesome. I am having an absolute blast and staying with my hubby Peter's family in the Bronx. I also got to visit with my cousin Steven, who lives here in Brooklyn.
We got here on Saturday (the 9th) at around 9:30pm. We made pretty amazing time (only about 8.5 hours from Toronto), and had the sweetest ride, as Lincoln, who lent us a Navigator for the Curvy Girls' Buffalo Shopping Trip, offered to sponsor my trip by providing a 2013 MKS for the journey. Driving in NYC is no easy task (the cab drivers are CRAZY), but the MKS is really responsive and has amazing braking capabilities. NYC is actually a great place to test out what a car can really do! The navigation system is excellent, as are the entertainment, climate control, auto parallel park, blind-spot warning, rear-view camera, and phone syncing features. The car is totally impressive, and we look like big shots riding around town with it, so it's perfect for fashion week! It's very sleek and comfortable, and I love the moon-roof. The fuel efficiency is also really amazing – much better than we expected. The trip from Toronto to NYC only cost about $70 in gas! I thought it would be much more expensive for such a large, luxurious vehicle. I think my favourite feature of the car is that the navigation system provides real-time traffic updates, and if a collision or traffic incident is reported, it will ask you if you'd like to re-route. We have saved SO MUCH time this way!
When we arrived, we went to Peter's family's restaurant, Venice Pizzeria in the Bronx, and they made us some dinner. SO tasty! I got to meet some of Peter's family whom I'd never met before, and they've all given me the thumbs up!
On Sunday, we went to check out GreenFlea market in Manhattan on the corner of 77th and Columbus. Well, I had SO much fun. So many pretty things!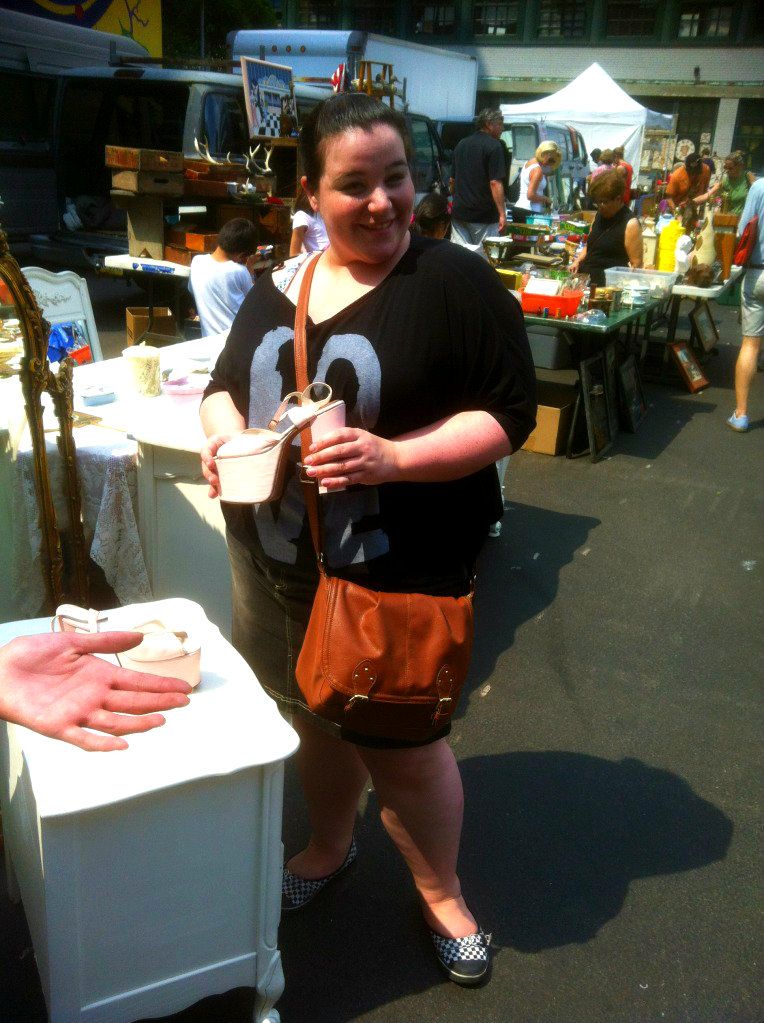 Vintage Platforms
Cute hat!
My family goes to Oktoberfest every year, and I`ve been looking for a reasonably priced beer stein forever! I was so happy when I found this one for $12!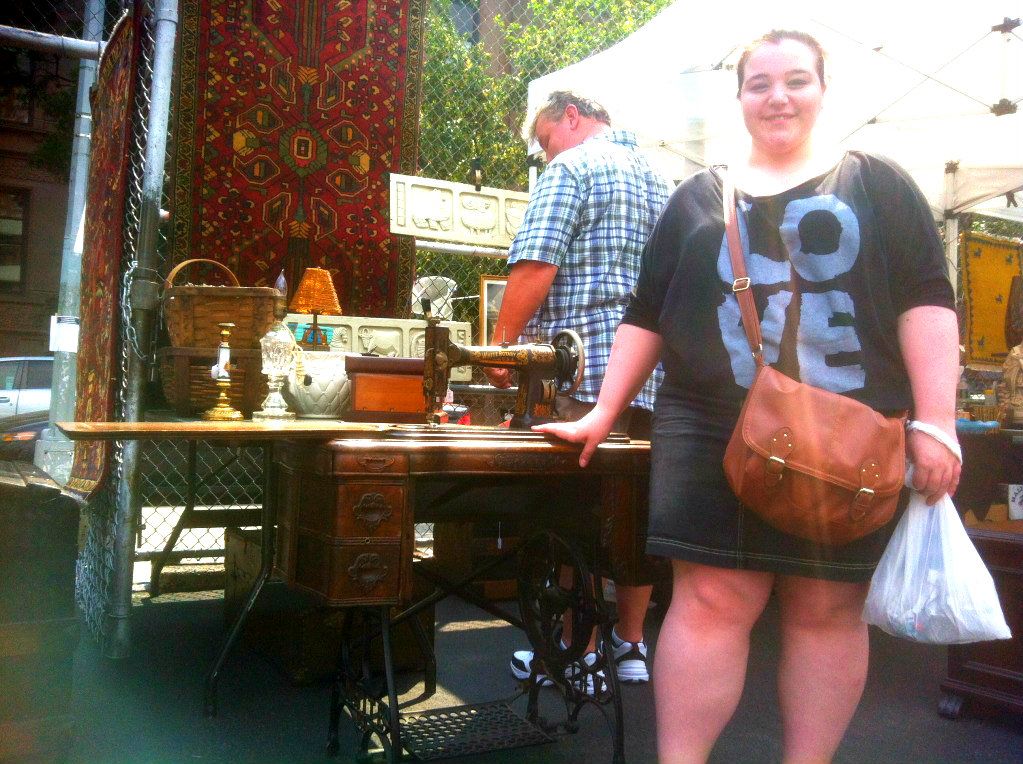 Sewing machine from the 1880s (still fully operations)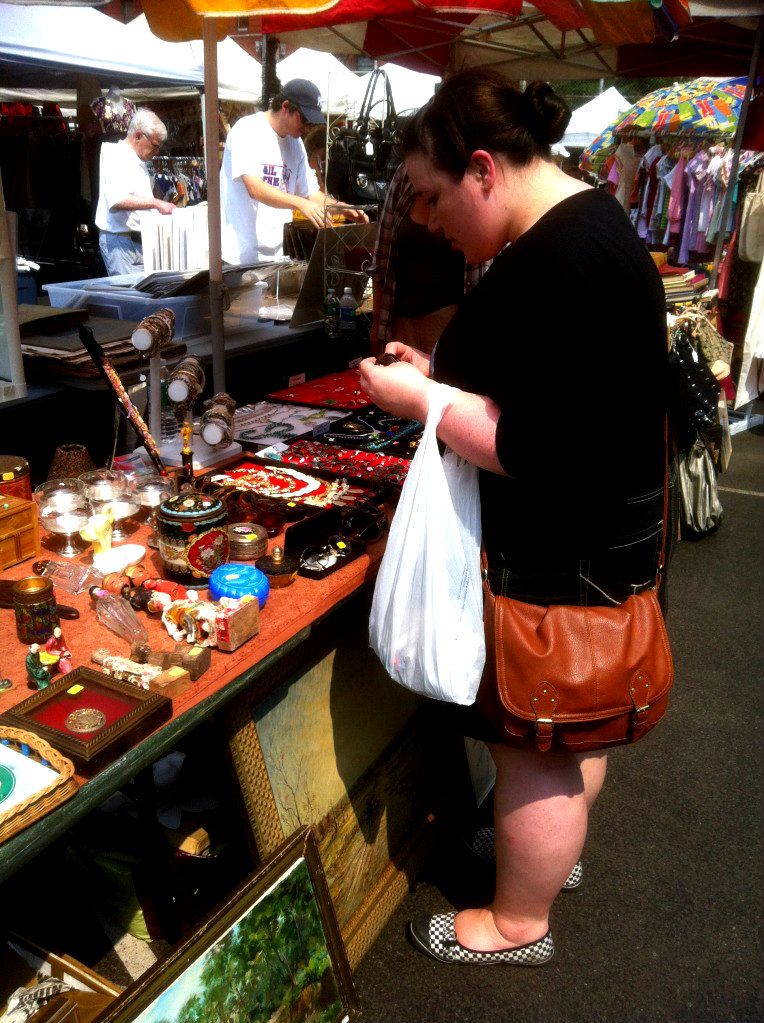 Oooh, pretty baubles!
This was a 90′s Donna Karan backpack that I didn't walk away with. I am regretting the decision not to shell out the $35 for it. I hope it found a good home somewhere!
A monocle. Yes, a monocle.
After the GreenFlea, we went to have NYC most famous cupcakes, the ones which made all other cupcakes trendy –  SOOOOO YUMMY!!!!
And we finished the day off with a bit of shopping in Times Square, though I was rather disappointed with the collection at F21+ this time around. I had to pick up some foundation from MAC, and I also bought the caviar nail art set from Sephora. I'm looking forward to trying it out!!! So I really have to go to bed now… EXHAUSTED!!! But expect another post sometime tomorrow!
Ciao from NYC!!!
Comments
comments