Hey Guys,
So my six take post is almost 3 weeks late, but I figure better late, than never! The holidays are so busy! So this month's six take theme is what to wear to a holiday party. I put together a couple of looks for you guys. I'd love to know what you think!
Dress – Courtesy of Addition Elle/Shoes – Guess/Clutch – Thrifted from Double Take/Bracelets – Lane Bryant and Forever 21/Necklace – Ardene/Earrings – CBX
This dress was sent to me by Addition-Elle. As you can see, the top part can be worn in several different ways. You can make it a strapless, cap sleeve, halter, or you can even wear it as a skirt. You just need to get creative with the tying, and you can find so many different ways to wear it. It makes it a great choice for travelling as well, since you can pack it without it taking up too much space and wear it a couple of times and get away with it! It's also almost impossible to wrinkle it, which is perfect for travel. I would like this dress even more if it came in a few more (bright or bold) colours, and perhaps if it was a touch shorter. I like the versatility of the top, and would love if Addition-Elle would carry this multiple-way dress with a more fitted, body-con, (pencil-type) skirt as well. I jazzed up this simple LBD with a houndstooth clutch and my favourite pair of brighly-coloured heels. This is a great outfit for a ladies' evening out having cocktails and sharing gossip!
These next photos are shots of an outfit I wore to a friend's holiday dinner party. I love incorporating festive green or red into my holiday outfits and playing with texture during the colder months, which is a bit more difficult to do in summer. SHINE is also a big factor in holiday dressing, and it's always nice to have a bit of that going on as well… I mixed my leatherette skirt from Forever 21+ with an embellished collar, jewel-toned, green satin blouse (which means I didn't need to wear a necklace). I put on lace tights at first, but it just looked like I had a little bit too much going on, so I took them off and put on some flat black opaque nylons instead. I added to the shine factor with my silver bracelets, and put on my really-high black suedette hidden platform pumps with a block heel to finish it off.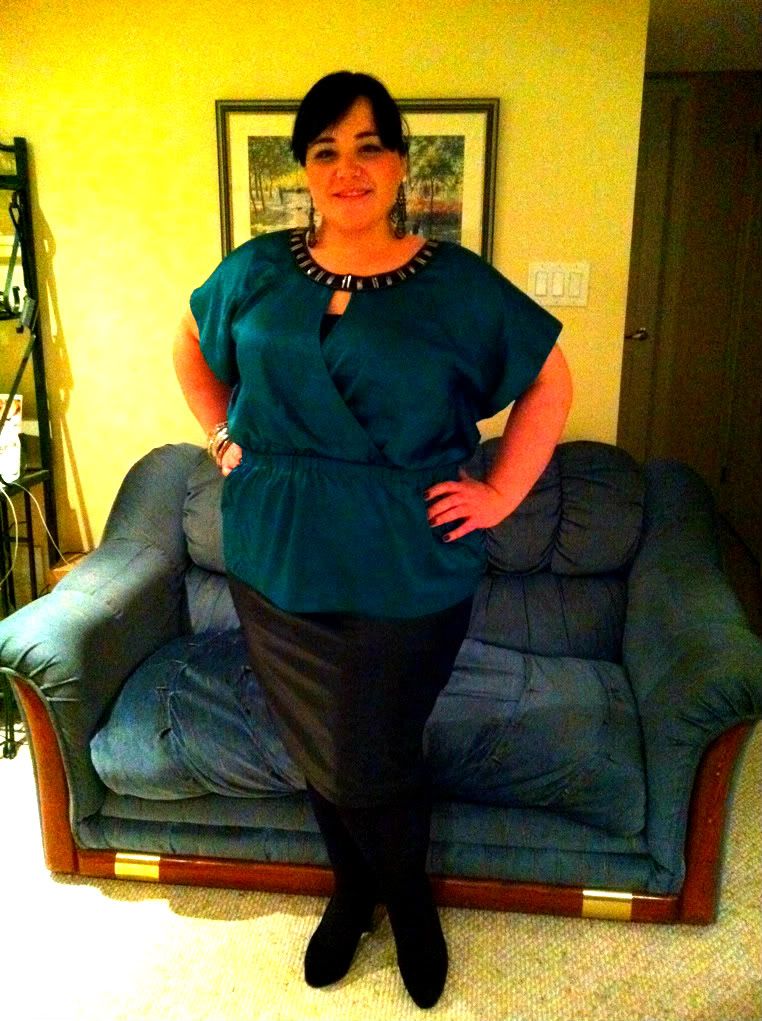 Blouse – Lane Bryant/Skirt – Forever 21+/Tights – Hue Brand from The Bay/Shoes – Rainbow/Earrings – CBX/Bracelets – Lane Bryant and Forever 21
So what do you guys think? What are you wearing for the holidays?
Make sure you visit the other Six-Takers' blogs to see what they're wearing over the holidays!
Jessica of Too Many Sequins
Yoli of Diva in Deep Thought
Jessica of Chic in Every City
Rikke of Sticky Sweet Danish
Sarah of Queen Sized Flava
Comments
comments